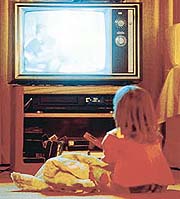 In the time-honored attempt to create copycats of a good show concept, Hollywood is mining the fields of religious discernment and evangelization.
A&E's new reality show
God or the Girl
--about four men discerning whether to persue the call to the Roman Catholic priesthood--is generating a lot of "holy buzz," according to entertainment insider Raina Townsend. "People are pitching RBCN* some great ideas, and we think at least a couple will become quality shows. Good for the younger set too." (See picture, left.)
This reporter heard that the three most promising options include one called
Mission Possible,
a combination of the granddaddy of reality TV,
Survivor
, and gritty reality of evangelical missions. Townsend said, "This show would place the twelve evangelists in a difficult, remote mission field--say, gang infested urban America--living in simple community, inspired by
Acts 4:32
. And instead of getting voted off one by one each day, they would have to
bring
someone into the fold, of his or her own free will, each day. First one who gains fourteen souls in two weeks wins. We need to work the kinks out of this pitch, but I like it--lots of potential for drama, with all those sinners trying to share things in common. I think America will have never seen anything like this before; there's that curiosity factor going for it."
Project Liturgy
is another potential hit. "Wowee, those new liturgists can really kick it up a notch," admired Townsend, "and they're a competitive bunch. They'll get challenged in all sorts of ways--different liturgies to coordinate, like a Mass, an Office, or a Christian Seder. We'll throw in the priest who can't chant, the missing chalice and chasible, and then the lector who starts throwing up just before reading to mix it up a bit, test them under fire. For sweeps we may have these newbie liturgists negotiate a showdown between the liturgical dance group and the local bishop. It will be electrifying, 'must-see' TV."
The Amazing Grace Race
will be much like the show of similar name, but working off St. Paul's metaphor for the Christian life, 'running the race' (
Gal 2:2
). Townsend effused, "The idea is to get different prayer teams racing around the world to Rome; the winner gains $100,000 for their favorite charity. They get stopped along the way by various challenges: here's a destitute woman and child begging in the street. Do you give them what's left of your money, or have dinner yourself that night? And imagine all them racing up to St. Peter's Square in all that Rome traffic! That's worth the series in itself."
Other networks were not available for comment.
--I.C.
*RNCN=Really Big Catholic Network